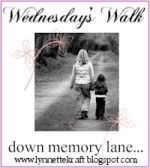 Well, since my birthday is coming up on the 25th, I thought I would talk about my 18th birthday.
It was a Monday afternoon, in July of 2005 and when my boyfriend(now hubby) got off work, he came by to pick me up. I had been getting ready all day and was so excited to go out. We went to Tulsa (about an hour from home)to eat and go to dinner. We ate at the Elephant Grill(Which had already gone out of business.) and to see The Island at the Imax.
After the dinner and movie we headed back home. About 15 minutes from home we took a detour into the country, by where is parents live. I was thinking what in the world is going on. He drove us down a dead in dirt road and at the end he turned the pick up around and turned it off. He then told me to get out of the truck. When I got out of the truck he put the tailgate down and told me to look out across the view(We were up on a hill.). You could see the lights from about 5 surrounding towns. It was beautiful. He told me what group of lights where what town and we just sat and talked.
After some time had passes he got off the tailgate and told me to stand up also. All of a sudden he started shaking and I was like oh no.(LOL) He then got down on one knee and asked me to be his. Of course I said yes. He got up and hugged and kissed me. It was wonderful!
Well, if any of you know me very well, I am a mood killer. We sat back on the tailgate and was just looking at the stars and holding hands. Wouldnt you know a cow would start mooing like crazy(It was very annoying). I opened my big mouth and said, "Sounds like that cow hasnt been getting any." He then in reply said, "Way to kill the mood."
To this day when we go out that way to visit the inlaws and we here a cow mooing, I cant help but laugh. That was the best birthday any girl could ever ask for!